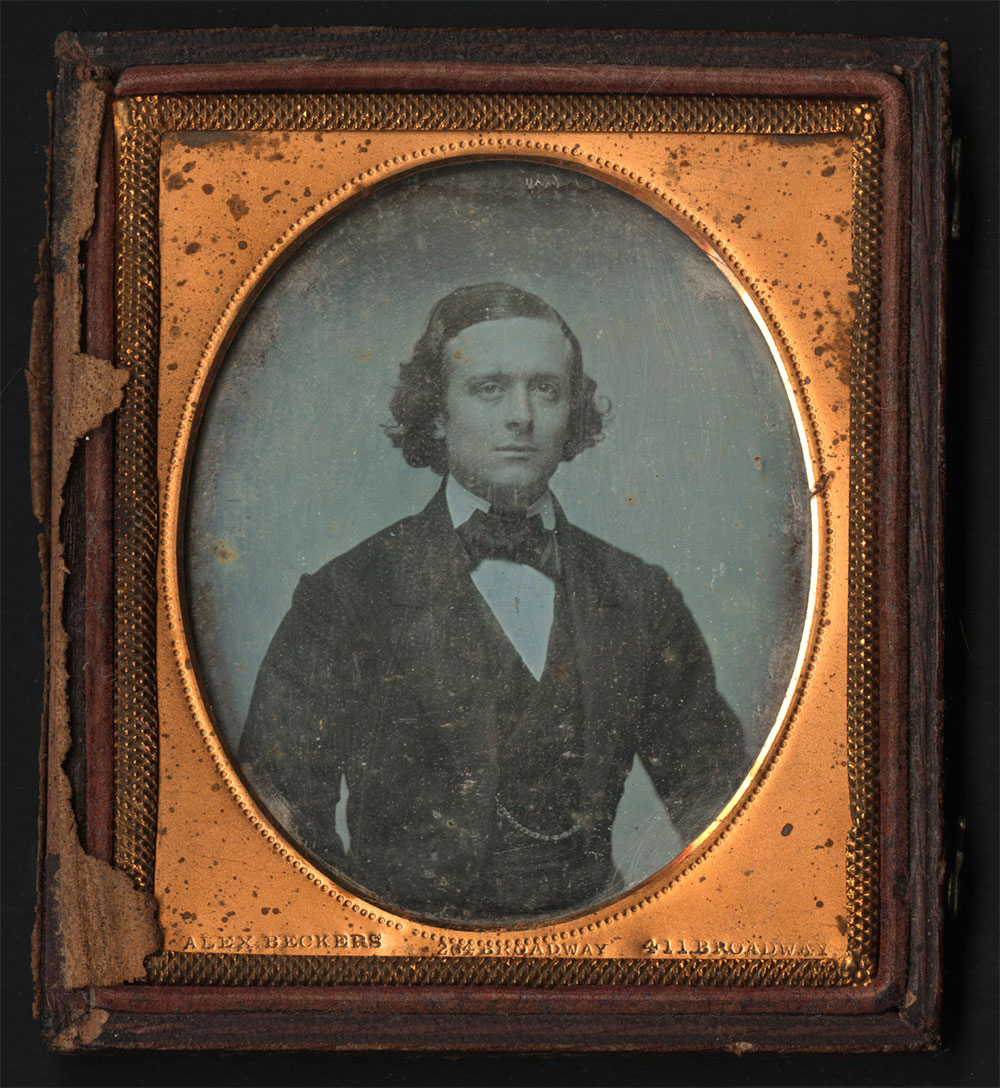 Life Image
© Albert Kaplan 2014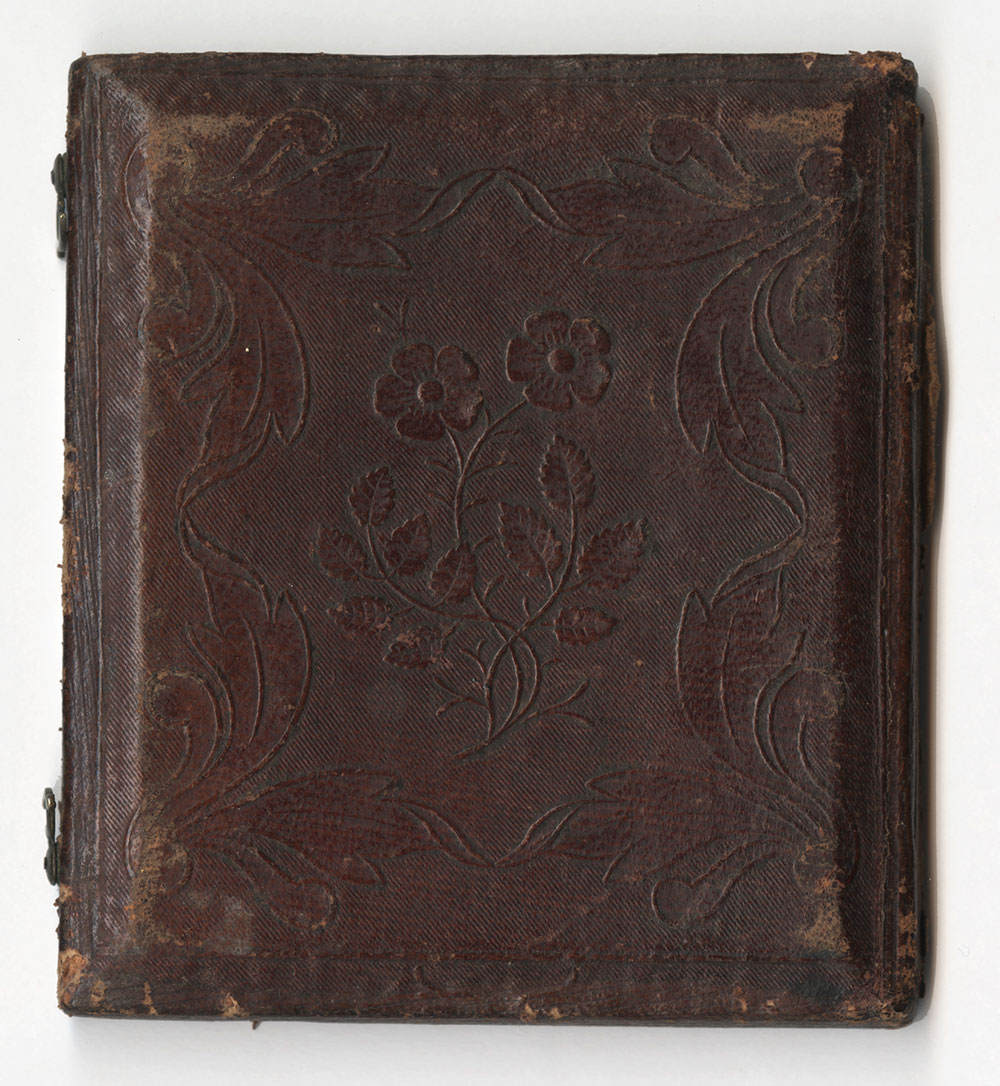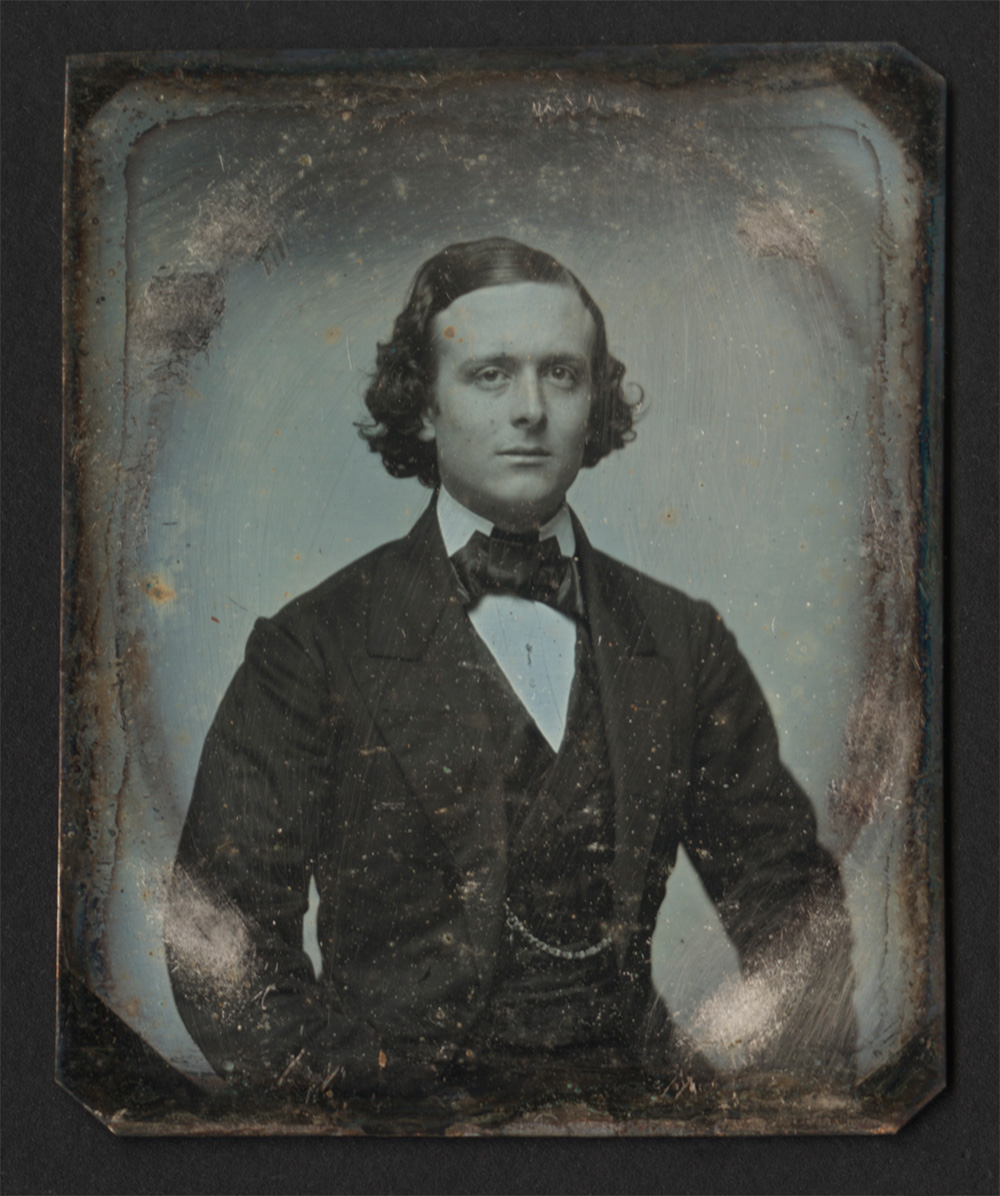 ---
"This daguerreotype has been very knocked about.  The mat was above the glass cover rather than between the plate and the glass cover, and judging by the build-up of dirt it was in that condition for many years.

The plate is slightly smaller than the mat. Once the binding tape was no longer attached, the plate moved around against the mat, causing significant abrasions.  The quality of the plate is much compromised.

I judge all elements to be original."

– Grant Romer
---
In early 1895 Churchill graduated from Sandhurst, and soon thereafter received, from Queen Victoria, his commission as a second Lieutenant in the 4th Queen's Own Hussars. Later that year, having a few months of free time before his anticipated assignment in India, he, together with his friend, Reggie Barnes, later General Sir Reginald Barnes, arrived in New York in early November, 1895, remaining approximately a week, house guests of William Bourke Cockran, a close friend of Churchill's Mother. The two young British officers were on their way to Cuba, to be attached to the Spanish army, then fighting rebels. Winston and Reggie continued on their journey, arriving in Havana on November 20th. Having been born on November 30, 1874, Churchill passed his 21th birthday in Cuba, and coincidentally, on this day he came under rebel fire.
1895 is late for a daguerreotype, and late for Alexander Beckers, one of the pioneers of early photography if not the grand master of the craft. Examples of his work are rare, and of supreme quality. Here is a photographic image of this gentleman and his family.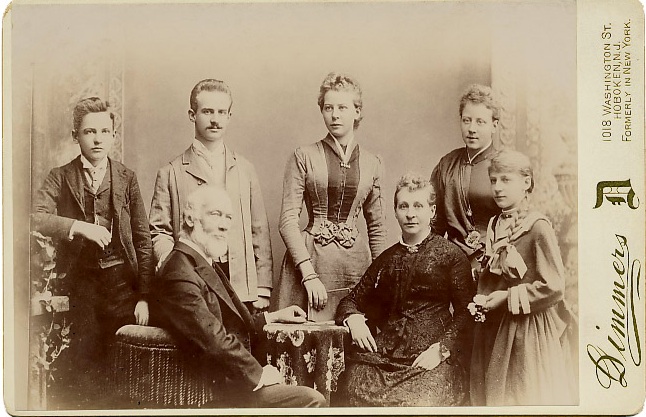 In 1895 Mr. Beckers was long retired as a daguerreian. However, he must have kept daguerreotype cases with his inscribed name, and used them on those special occasions when he would be persuaded to make a daguerreotype. He could not refuse William Bourke Cockran, one of the leading political personalities in the the United States.
Or, put another way, Alexander Beckers, one of the great names of early photography, came out of retirement to take this daguerreotype of young Winston Churchill, the 20-year-old son of Lord Randolph Churchill.
It is unlikely that Churchill ever saw this daguerreotype.  He was in New York for only a few days, and this daguerreotype was likely made toward the end of his visit.  William Bourke Cockran would have treasured this daguerreotype of his young friend.  Surely, during Cockran's lifetime, this daguerreotype was very carefully preserved, as is fitting a precious memento.  However, upon a person's death, relatives, staff, governmental personnel, and the like, enter the domain of the deceased, and begin to realign personal effects.  It is normal, and must occur.
How did the daguerreotype of young Abraham Lincoln end up at Witkin Art Gallery in New York?  How did the daguerreotype of Emily Dickinson end up in an Illinois flea market?  And, how did this daguerreotype of young Winston Churchill end up, 118 years later, in a rural Maine antiques fair?  We will never know the answer to these questions.
---
| Kaplan Collection | Known Images |
| --- | --- |
| | |
| | |
| | |
| | |
| | |
---
The following video has been produced by Bob Schmitt, the co-founder of Biometrica, Inc, which provides biometric facial identification security to casinos. All individuals who enter a Biometrica-covered casino are unobtrusively photographed, and compared to a large database of persons who for different reasons are not welcome patrons. He is one of the pioneers and leaders of the biometric facial identification industry.
---
Post-Script
August 29, 2019
The Leonardo di Vinci of early photography may have been Alexander Beckers, whose daguerreotype of Winston Churchill is remarkable for more than the usual reasons accompanying Beckers' productions, one of which is the unlikelihood of there being a daguerreotype of Winston Churchill or anybody else as late as 1895.  The daguerreian age was long past. Beckers, in 1895, was a retired or semi-retired manufacturer of precision optical/photography-related equipment.
Churchill's host in New York City was William Bourke Cockran, noted lawyer, former member of Congress, one of the most accomplished public speakers of the 19th century, and a candidate for the presidency.
Winston Churchill was 20 years old, visiting the United States for the first time.  His host, an extraordinary personality who had a profound effect on young Churchill, was also a suitor of the young man's widowed mother.