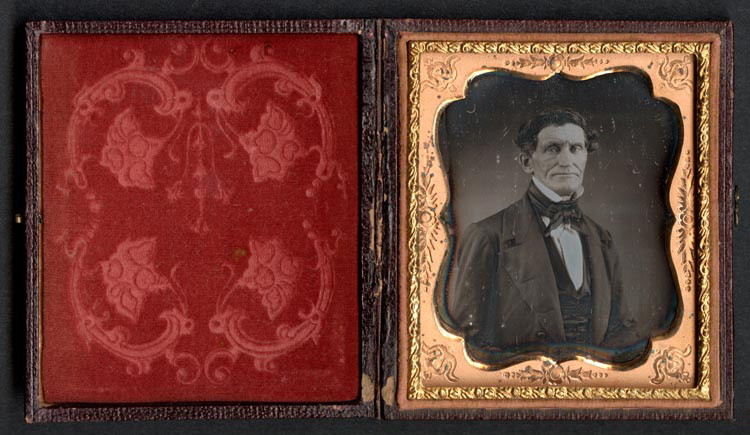 © Albert Kaplan 2012
­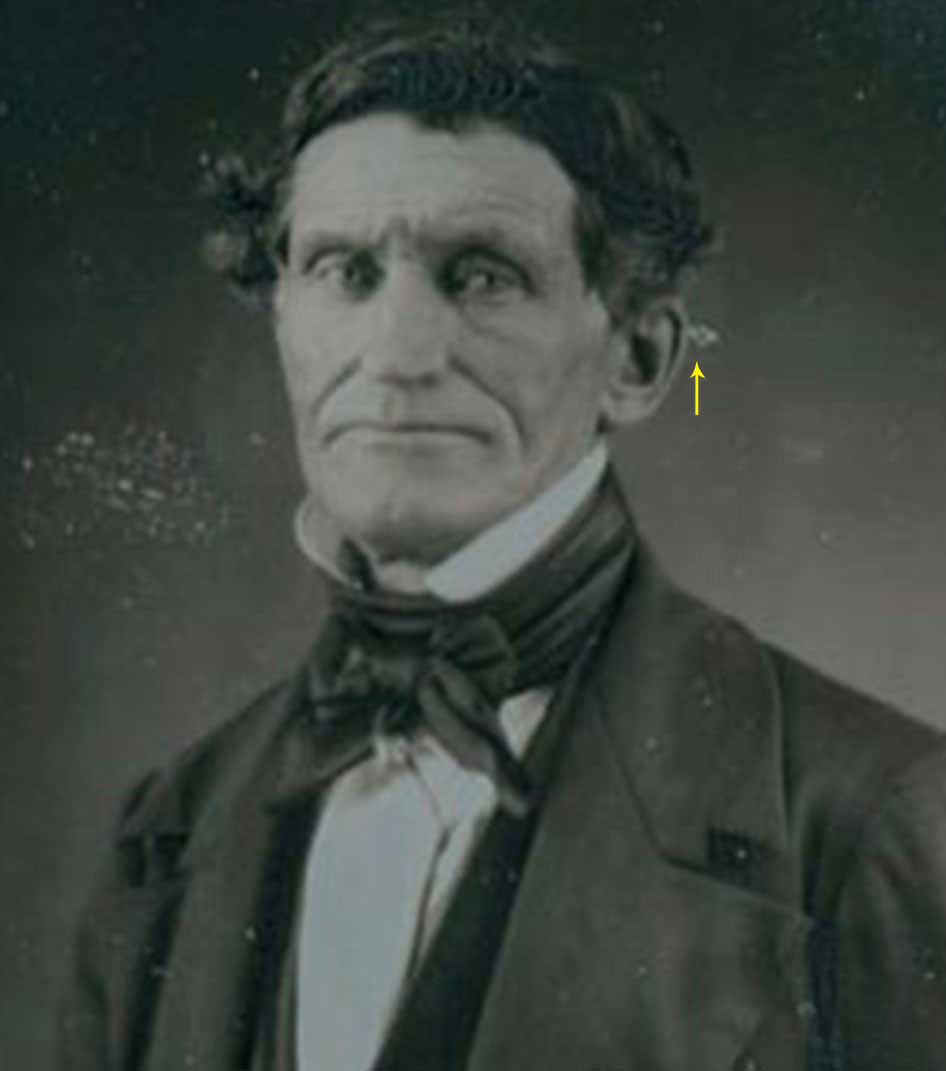 Life Image
­
Note the yellow arrow which is pointing to a piece of the posing stand headrest designed to keep the sitter's head steady. For this and other reasons, it seems unlikely that this daguerreotype was made in one of the principal urban studios. I suspect it was made in Lawrence, Kansas.
---
| Kaplan Collection | Known Images |
| --- | --- |
| | |
| | |
| | |
­
Occasionally, when I am viewing 19th Century portrait photographs, the same thought occurs to me, that a person's face says so much about him.
It seems to me that each aspect derives from the faces of one's ancestors as well as the direct influences of one's life. Do you often laugh? Each time you do influences not only your face, but the faces of your progenitors. However imperceptible the influences of those repeated muscular contractions, the die is cast.
Consider the deep "laugh" lines of John Brown's face. This too is John Brown.
"His zeal in the cause of my race was far greater than mine—it was as the burning sun to my taper light—mine was bounded by time, his was stretched away to the boundless shores of eternity. I could live for the slave, but he could die for him."

– Frederick Douglass
---
Conservator's Report
­
FINAL TREATMENT REPORT
Albert Kaplan
April 9, 2012
JOB #: 12:17
Object: cased daguerreotype
Dimensions: 1/6th plate
Title: male portrait
Support: silver coated copper
CONDITION ON RECEIPT
The daguerreotype was housed inside a leather covered wood case. Its spine had been previously repaired. The packaging around the daguerreotype included a brass preserver, nonpareil brass mat, and a cover glass. There were tape remnants on the reverse of the plate, but none extending up to the cover glass. All tape remnants were well adhered to the plate, indicating that all loose pieces had been intentionally removed. The cover glass and surface of the plate were both very clean. No dirt or droplets from glass decomposition were present. Probably the plate had been previously removed from the packaging and cleaned before being placed back into the case.
The plate had no hand coloring. There was some tarnishing of the silver, which followed the outline of the brass mat. Also, there was a portion of a plate mark present at one corner. This appeared to match plate #29 from Appendix 1 in The American Daguerreotype by Floyd and Marion Rinhart. Of this plate they state, "Unknown French platemaker, ca. 1850-1858; peak years, 1854-1856. Probably the second most widely used French plate."
TREATMENT PERFORMED:
The daguerreotype was removed from the case and packaging in order to be scanned.
Once scanned, the plate was returned to its packaging with a sheet of polyester placed on the reverse. Filmoplast P-90 tape was used to seal the cover glass to the polyester on the reverse of the daguerreotype.
____________________________
Gary E. Albright
Paper and Photograph Conservator
96 West Main Street
Honeoye Falls, NY 14472
585-624-2612