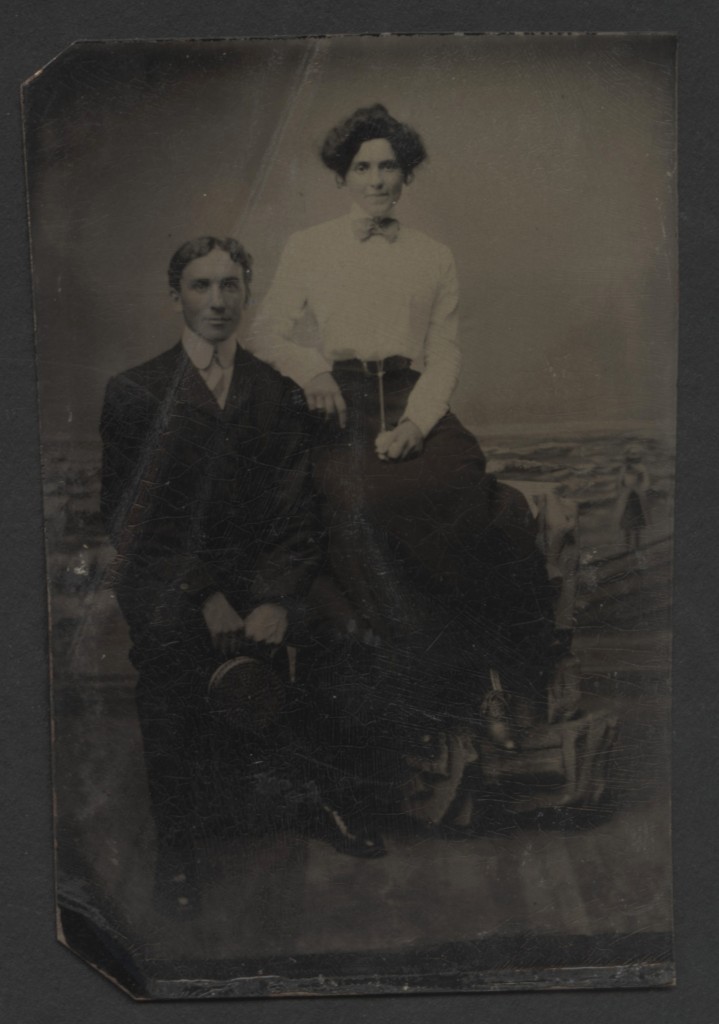 Laterally Inverted
© Albert Kaplan 2016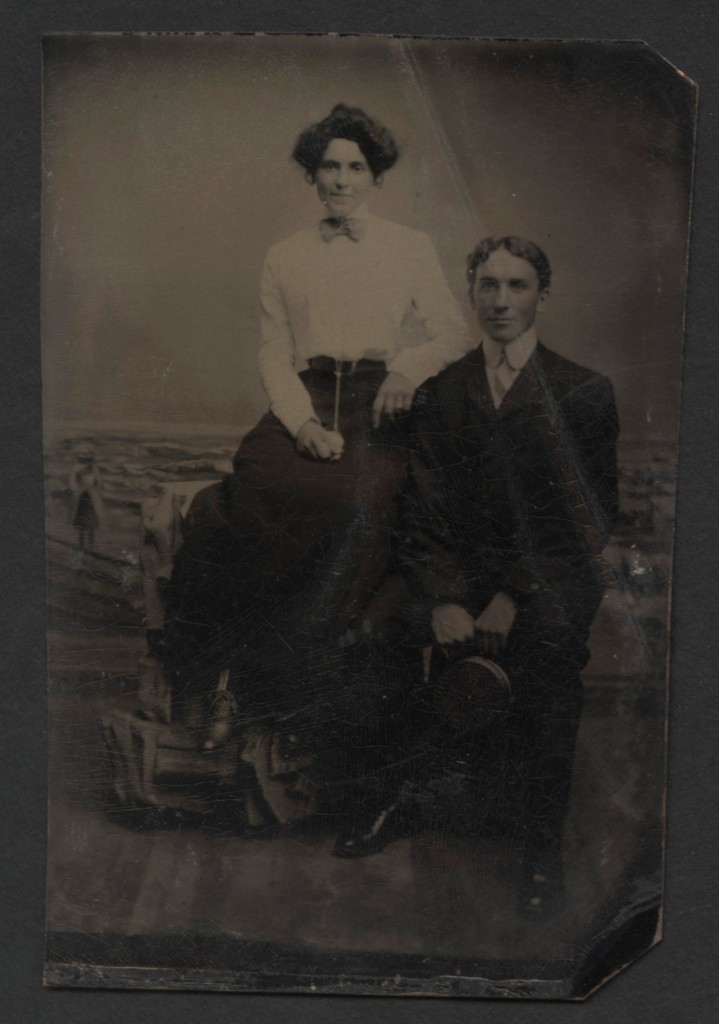 Life Image
Please note Clara's right hand which seems to be grasping something. Perhaps she was holding a ball-clock. They can be found at rural auctions in England.
---
Kaplan Collection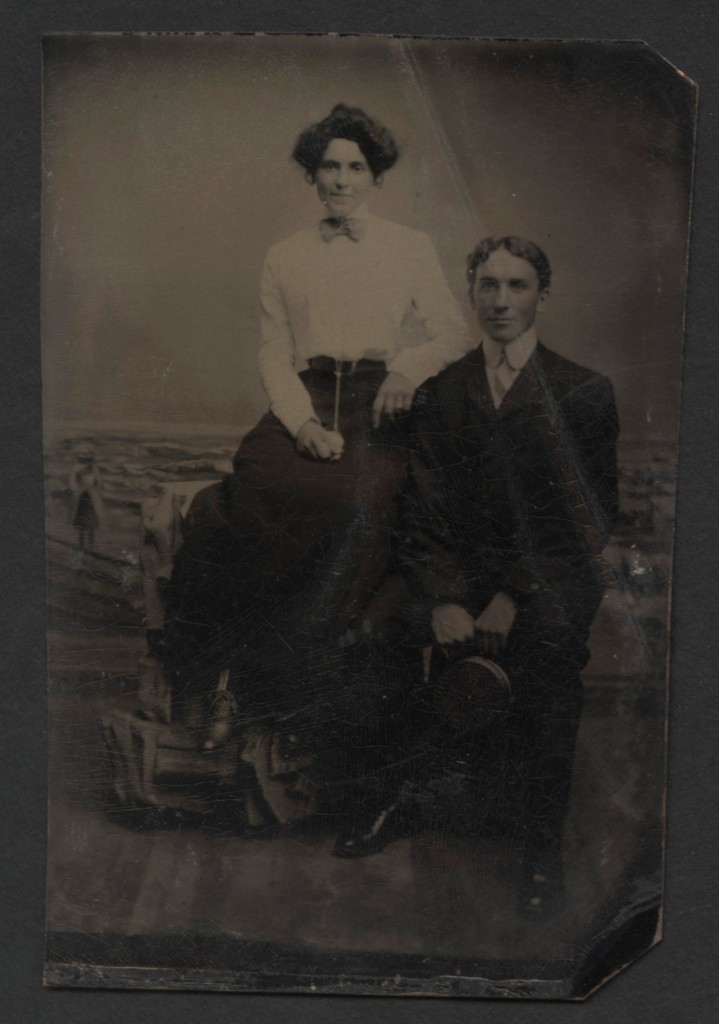 Known Images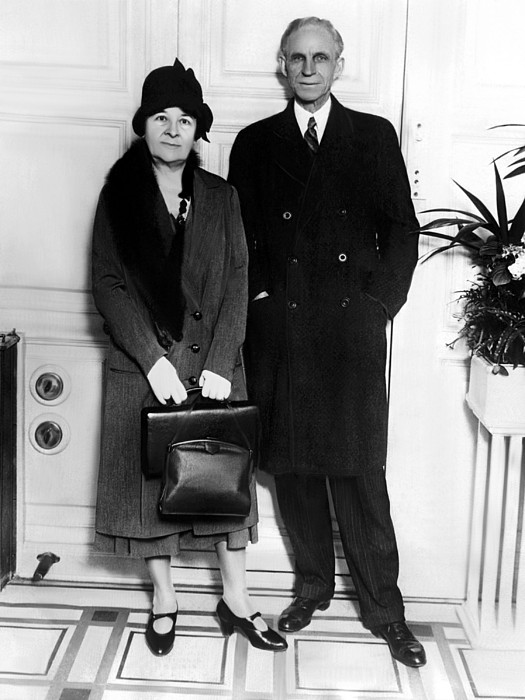 ---
Clara Ford's Hair, Wedding Band, Slim Waist & Bowtie
Kaplan Collection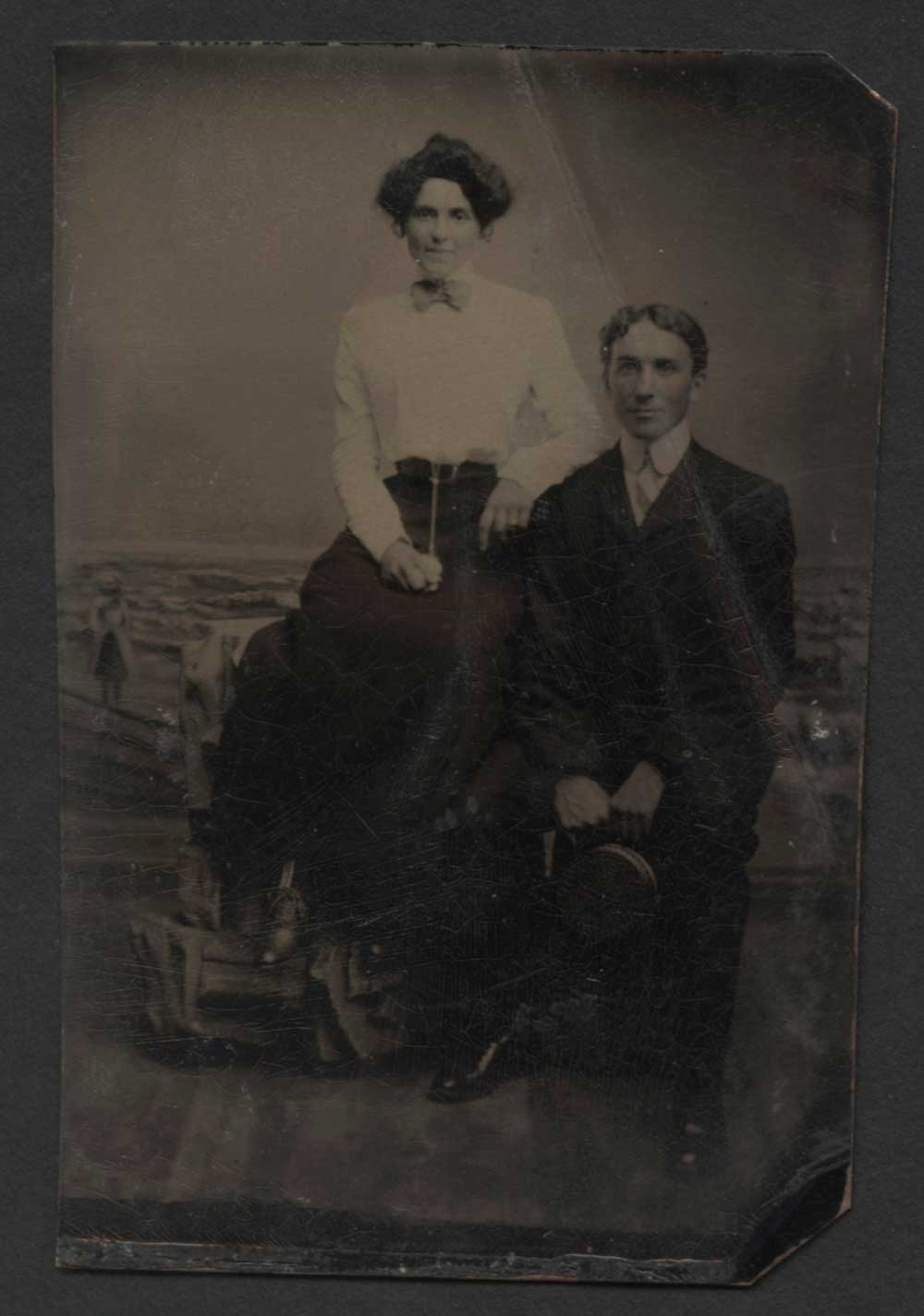 Known Images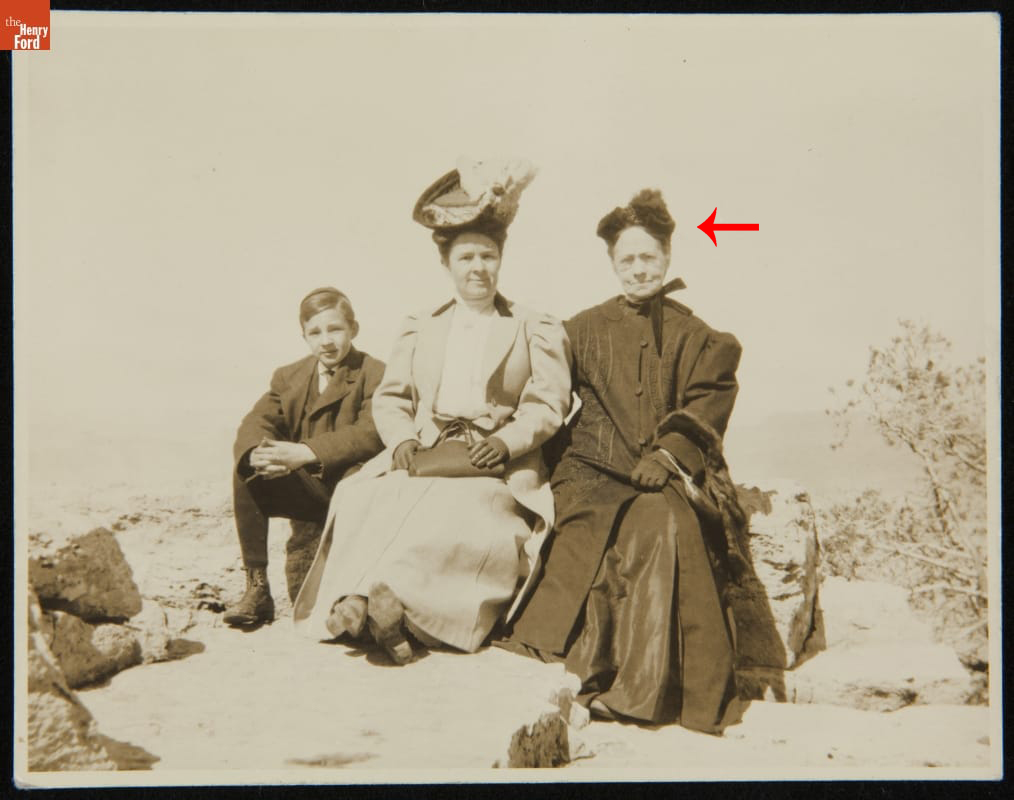 From the collections of The Henry Ford
Note the loose wedding band which suggests that she might be wearing it for the first time.
---
Henry Ford's Hair
Kaplan Collection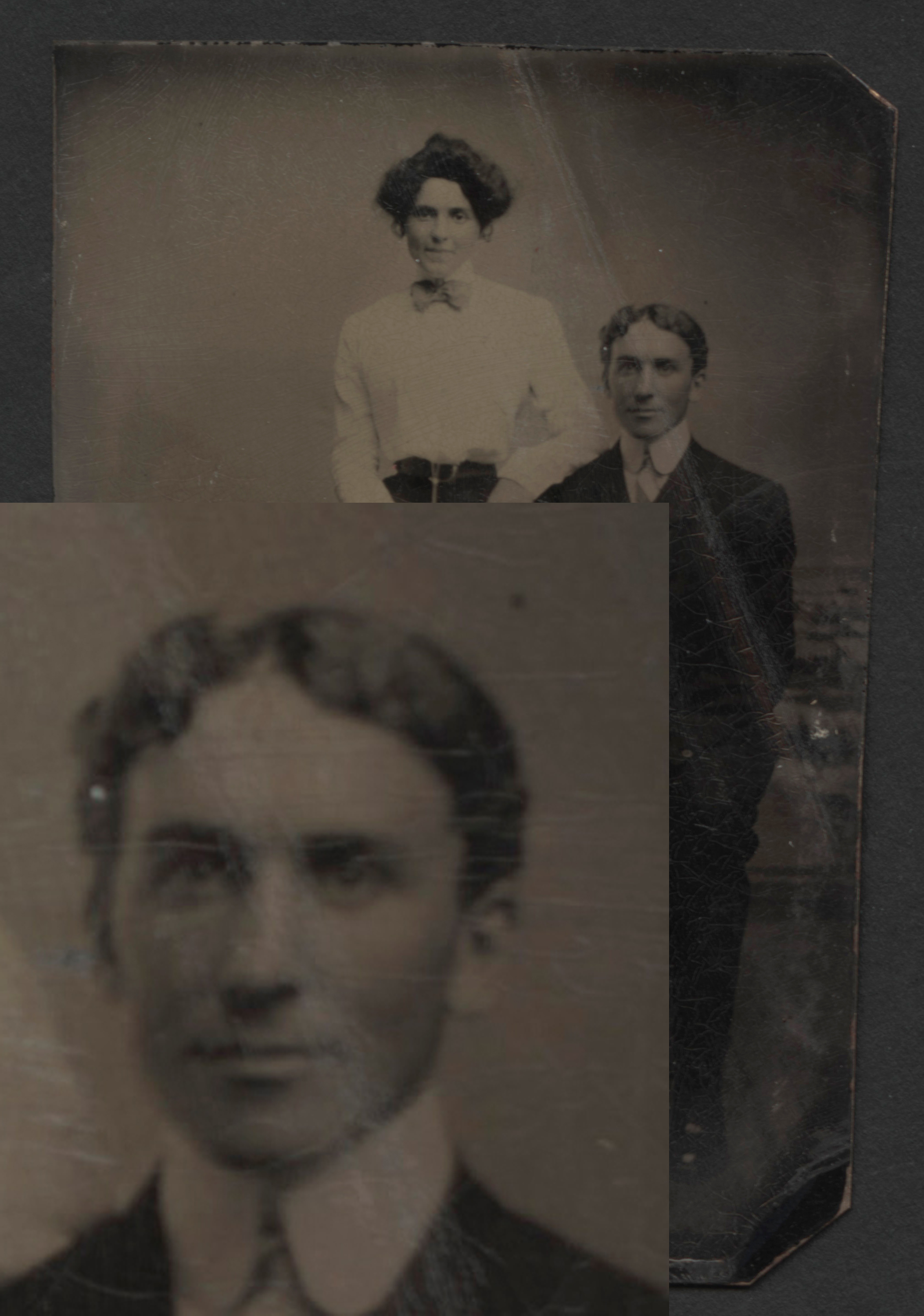 Known Images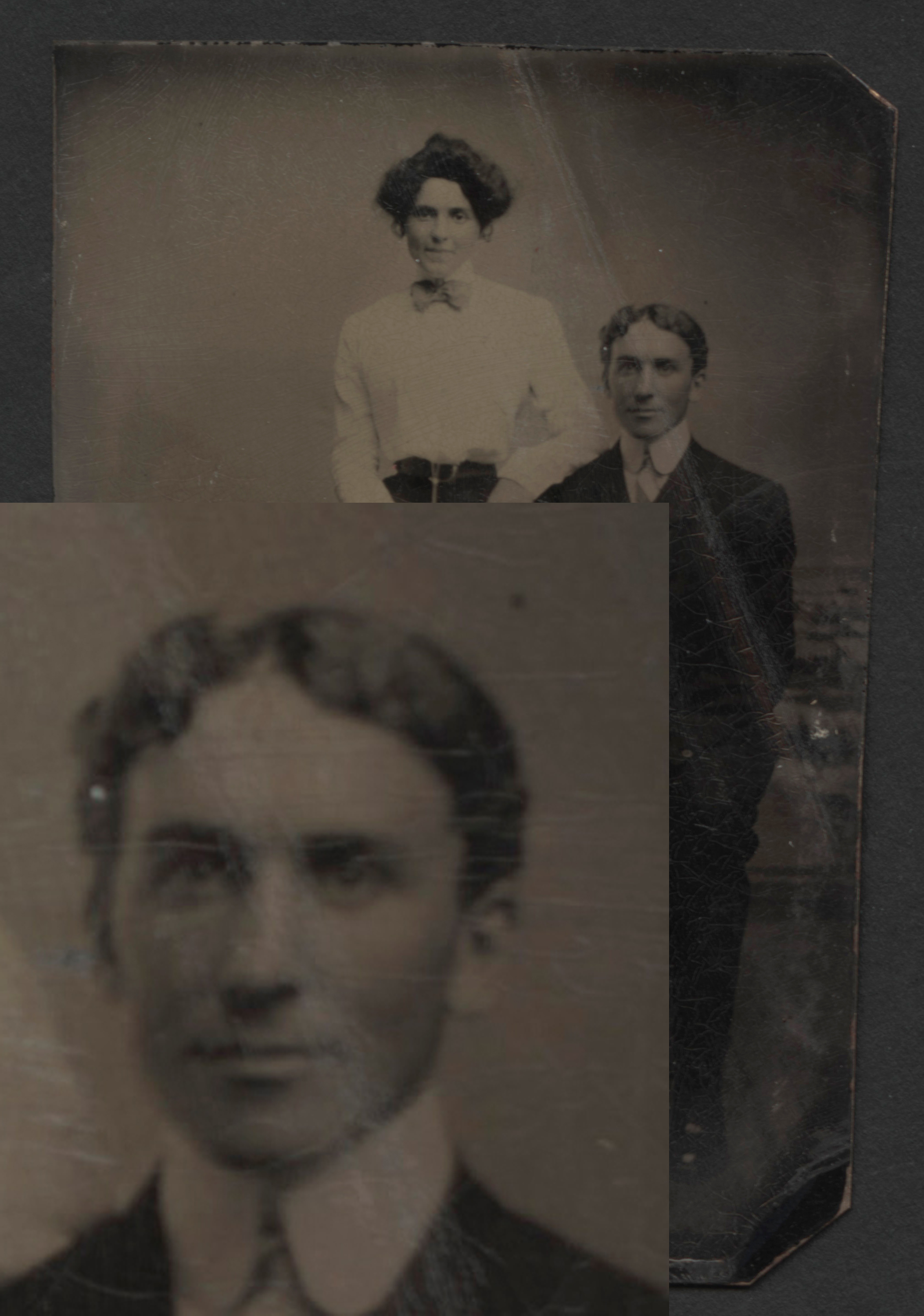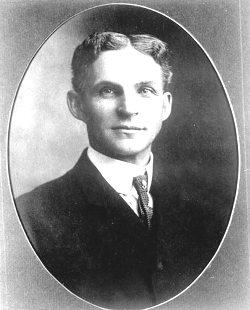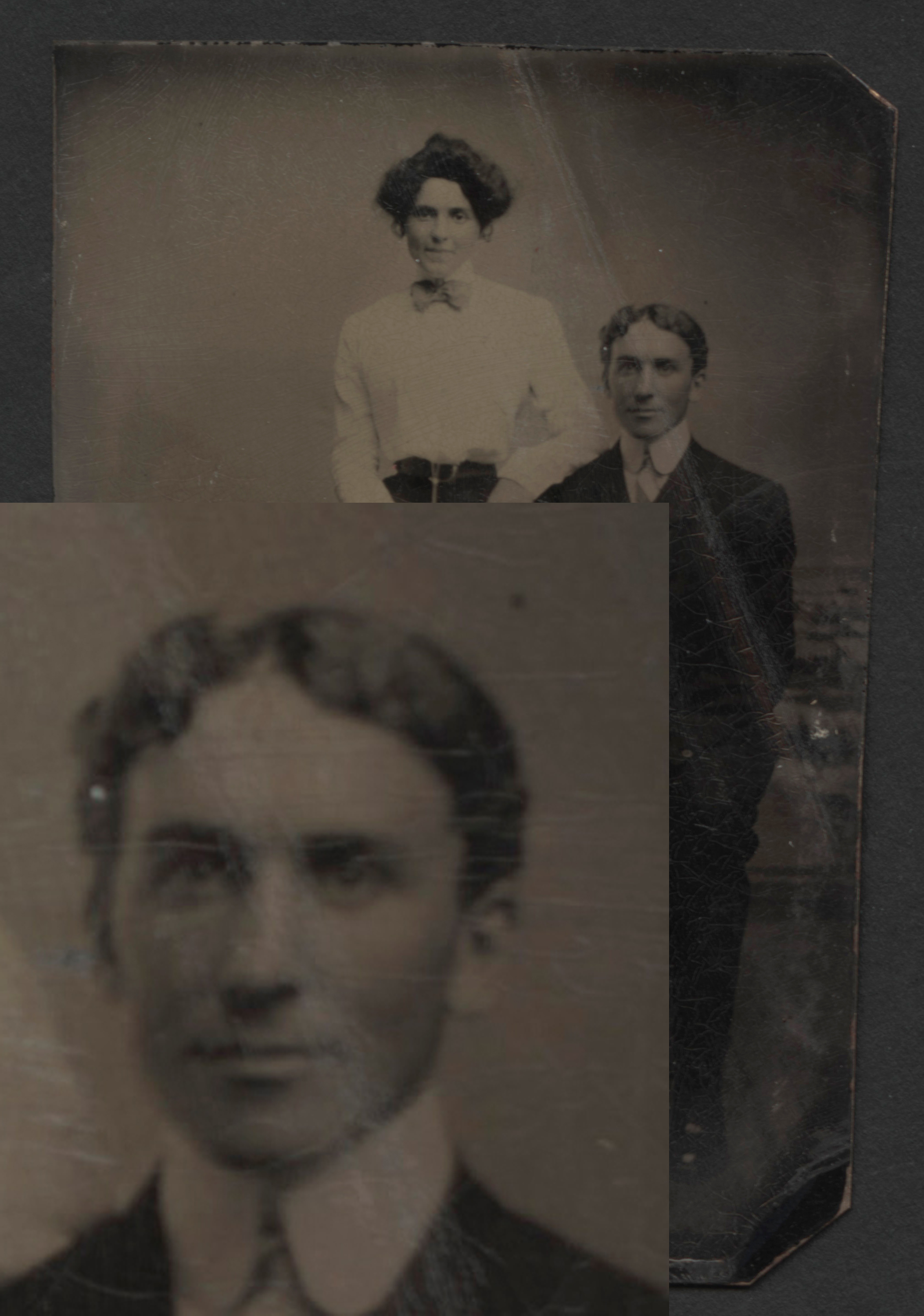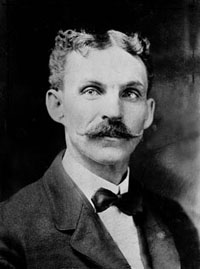 Please compare the eyebrows.
---
Henry Ford's Hands
Kaplan Collection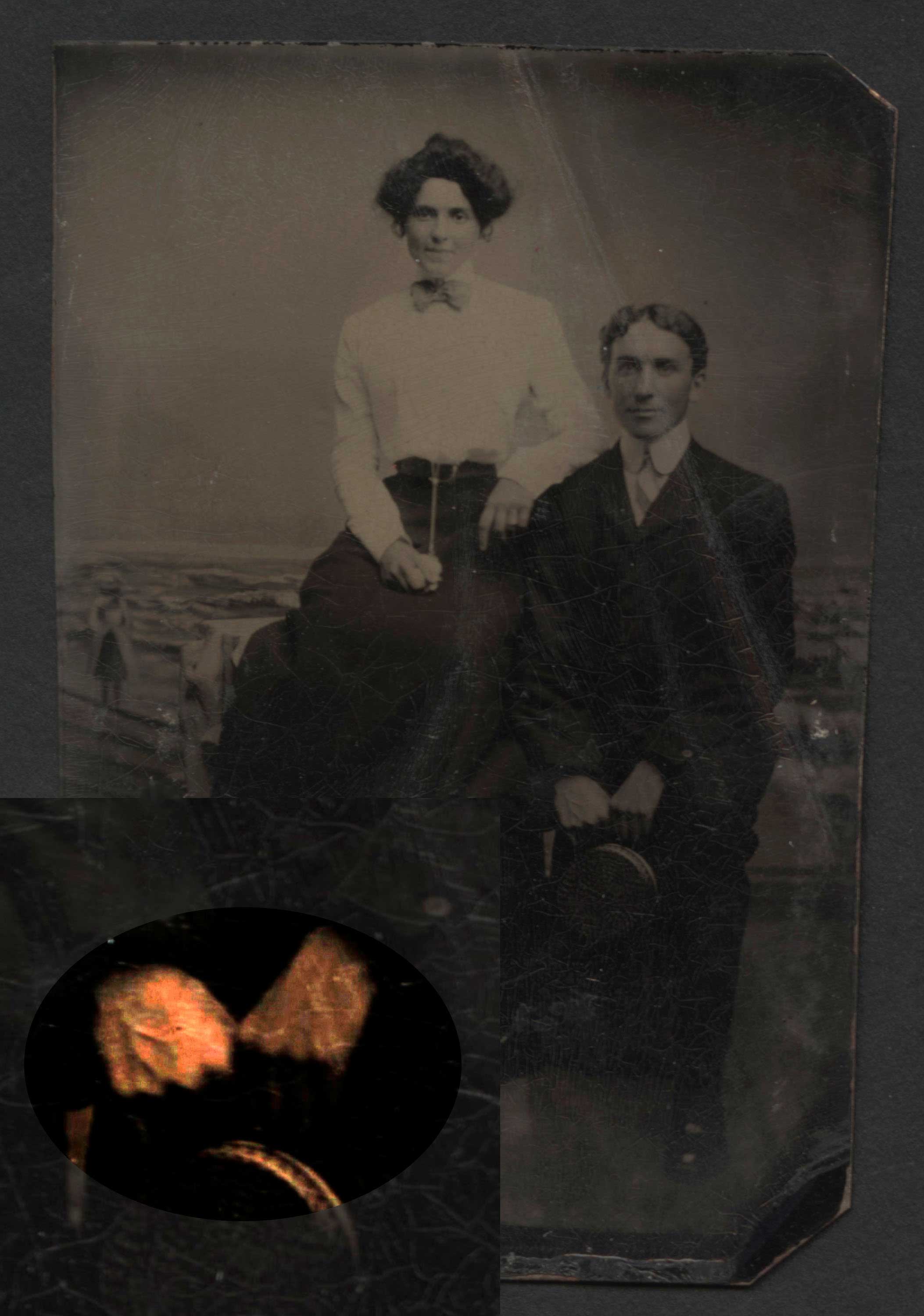 Known Images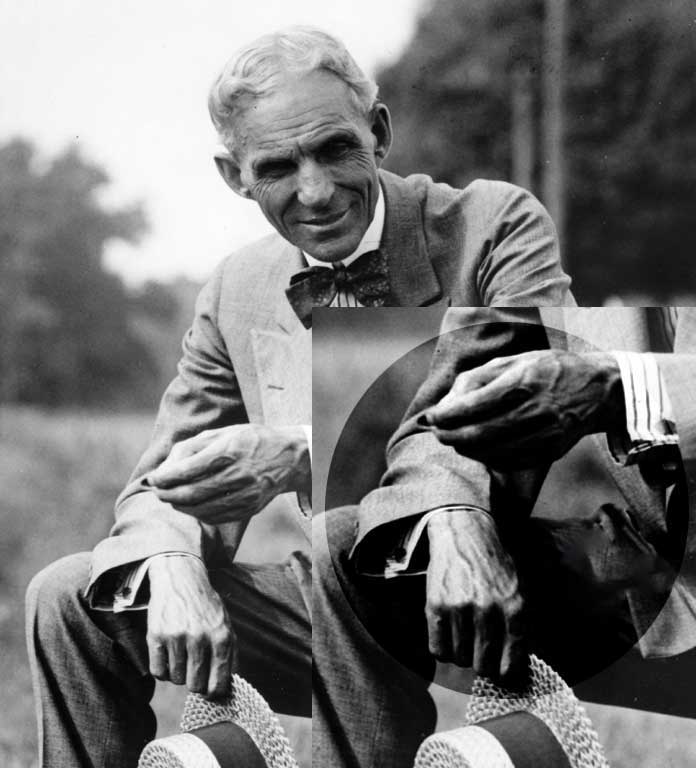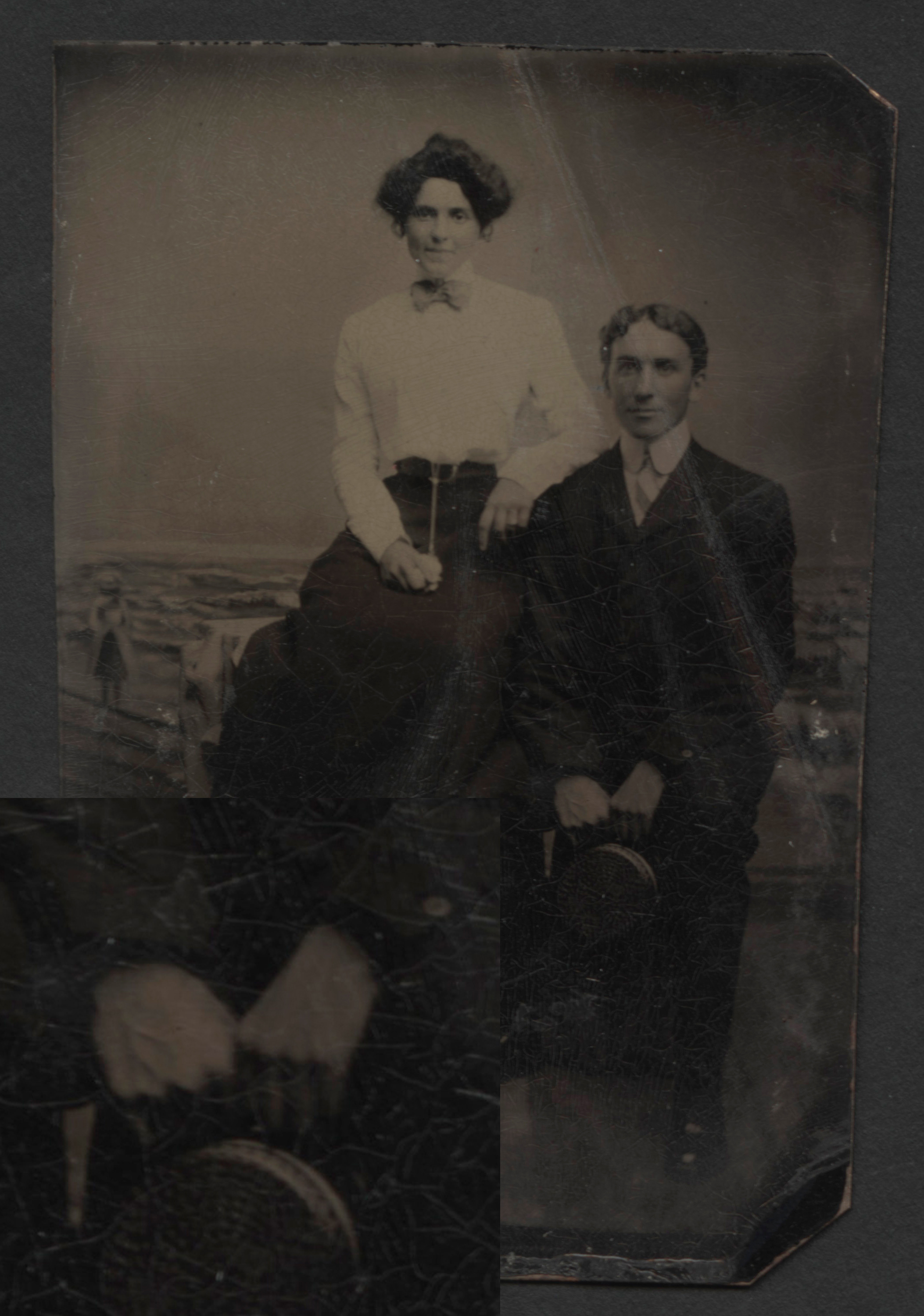 Viewer, please note the little finger of Henry's right hand.
Is it harmonious with his other fingers?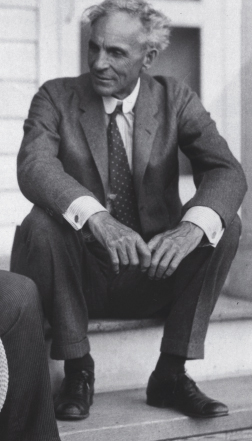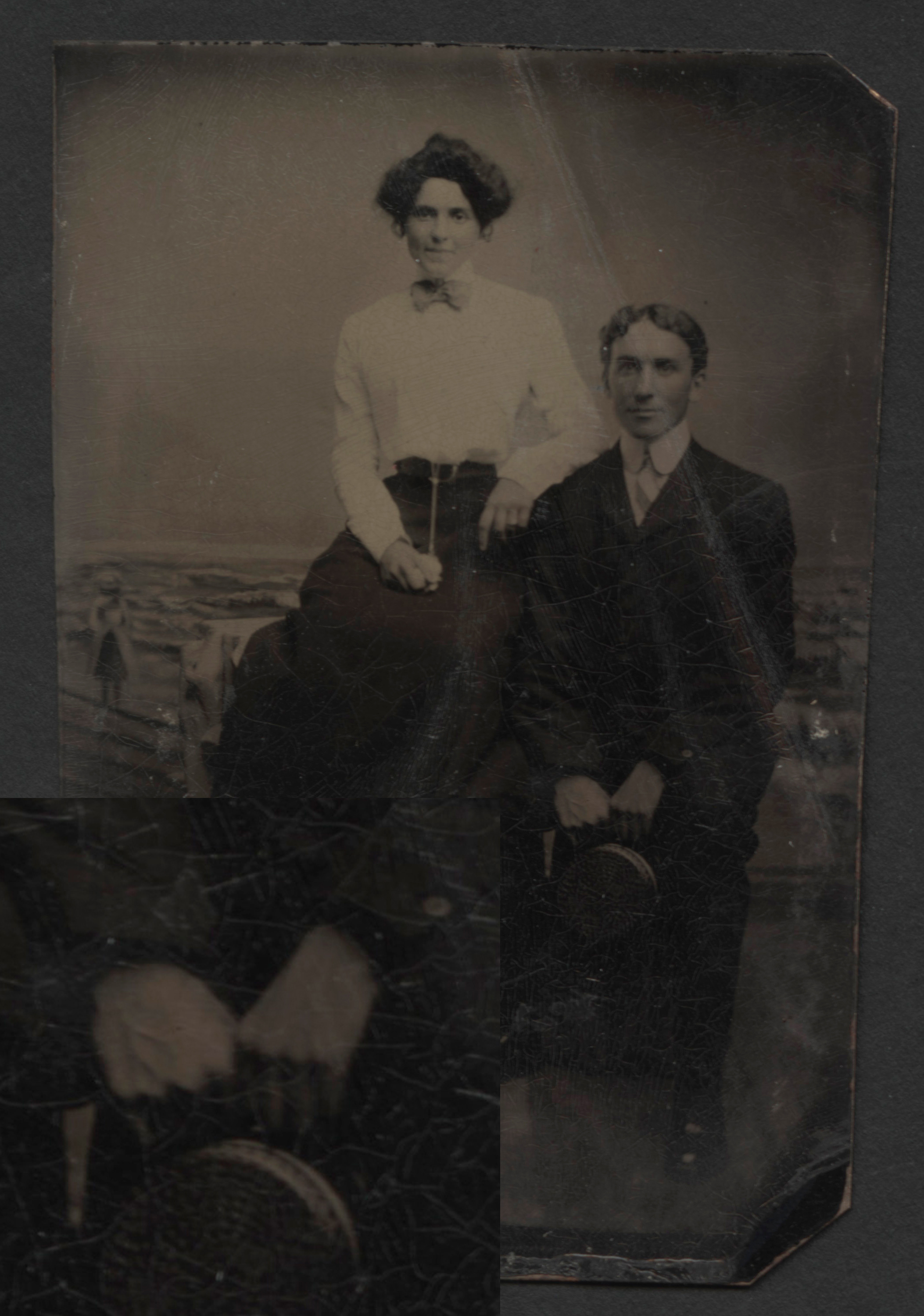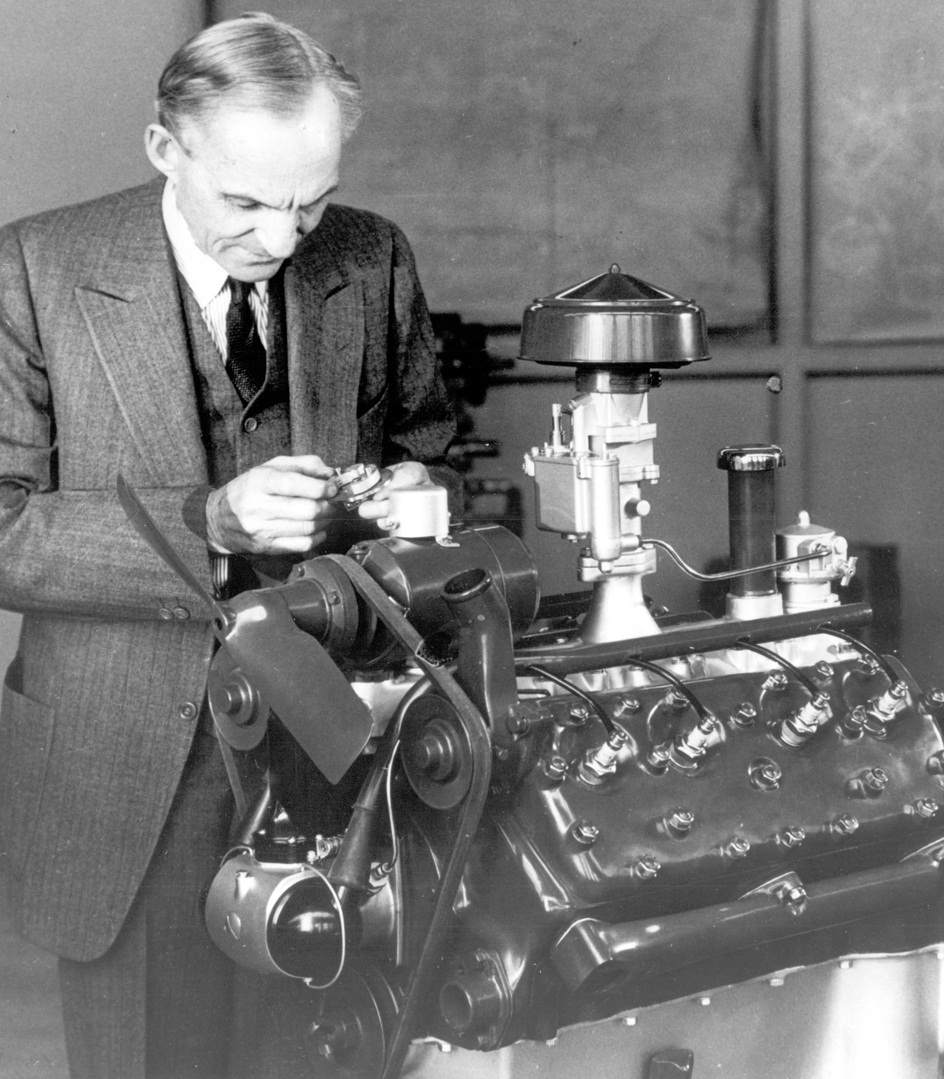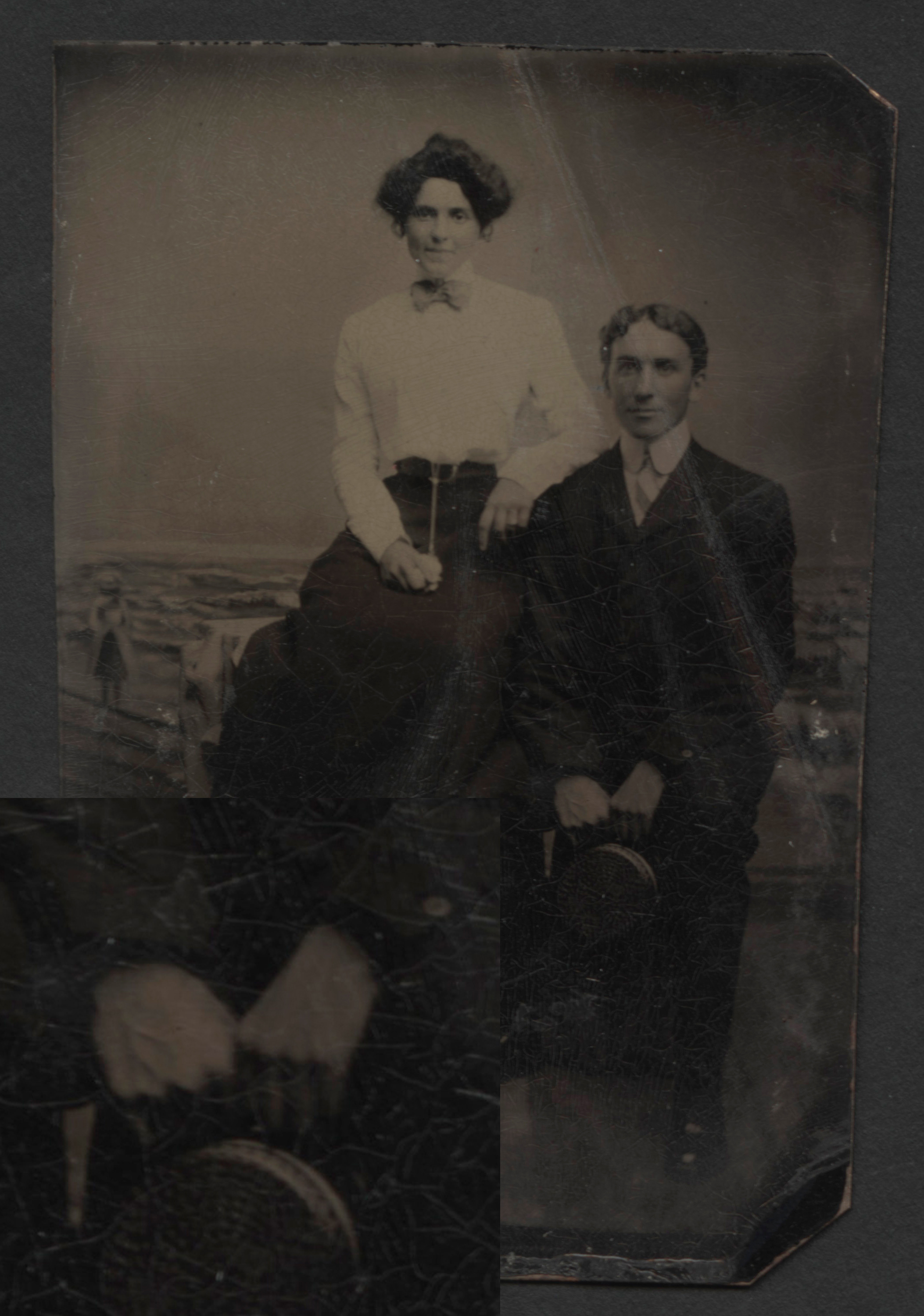 It appears that the rim of the hat seems to be up against a book, holding it in place. If so, the book is likely a Bible, underscoring the likelihood that this tintype was made on their wedding day.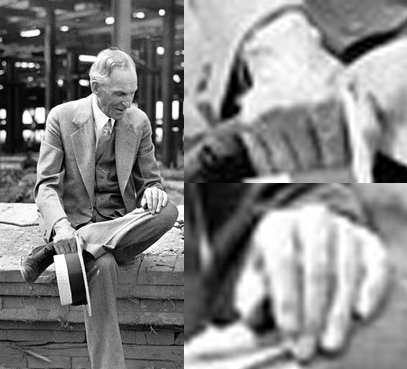 In the above known photographic image of Henry Ford, he is holding a straw hat by the rim. In the tintype, the young man is also holding a hat by its rim, the same round shape as the straw hat of the known image.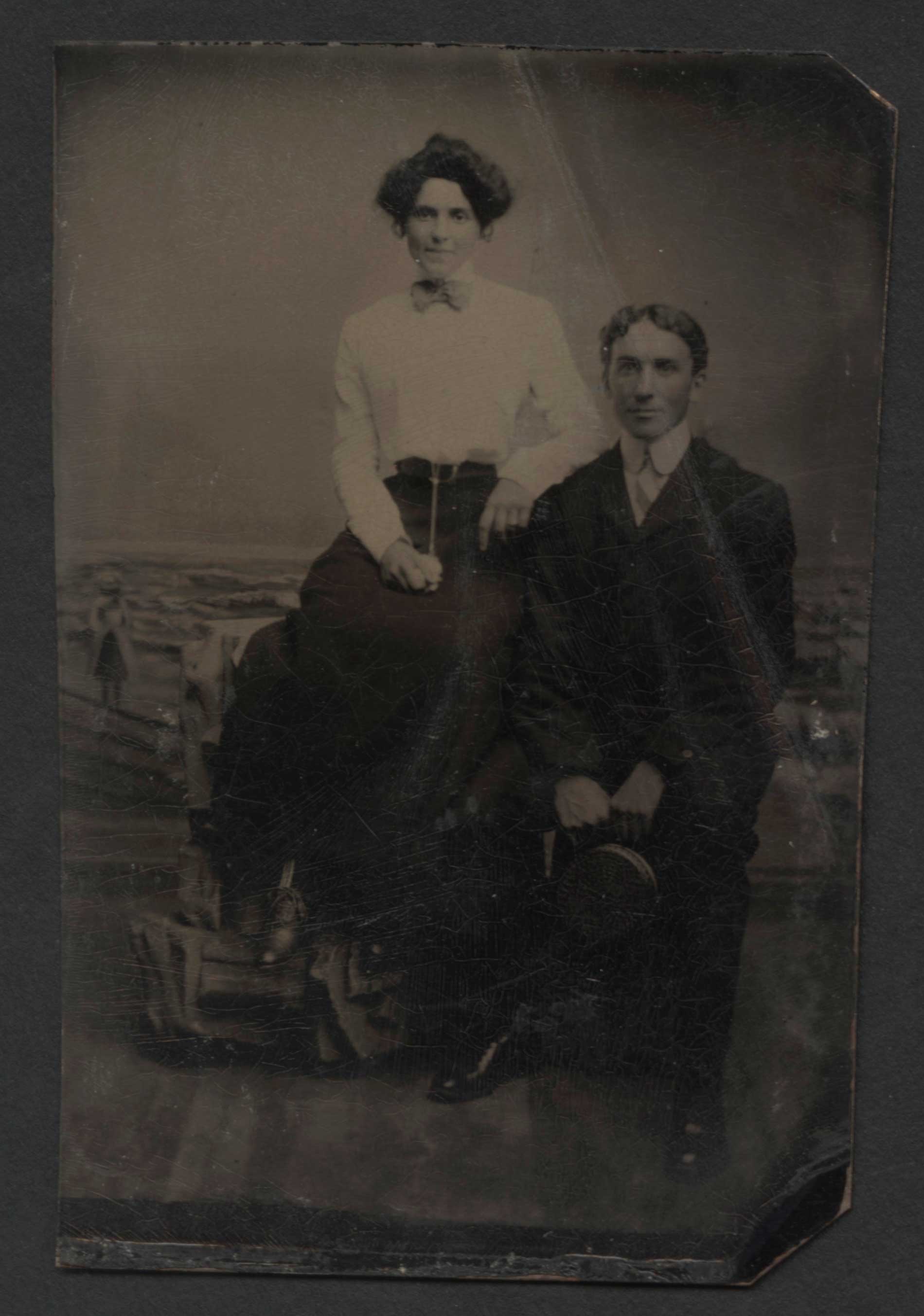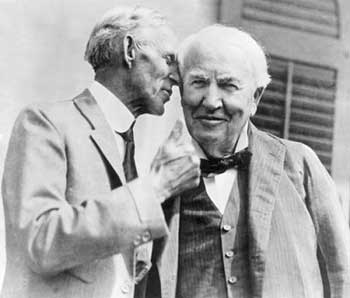 Note the shirt collar which seems to be identical to the shirt collar in the tintype.
---
Henry Ford, born in 1863, and Clara Jane Bryant, born in 1866, were married on Wednesday, April 11, 1888, Clara's birthday. Perhaps this tintype was made on that very day. He was 24 years of age, Clara 22 years of age.
Clara had a distinctive nose, and while we cannot make out the contours of her nostrils, the little we do see is agreeable with Clara's nose.
---
Henry Ford's voluminous anti-Semitic publications were so profoundly influential in Germany, Baldur von Schirach, at his Nuremberg trial, testified, "The decisive anti-Semitic book which I read at that time, and the book which influenced my comrades, was Henry Ford's book, "The International Jew." I read it and became anti-Semitic. This book made in those days a great impression on my friends and myself because we saw in Henry Ford the representative of success, also the representative of a progressive social policy. In the poverty-stricken and wretched Germany of the time, youth looked toward America, and, apart from the great benefactor Herbert Hoover, it was Henry Ford who, to us represented America…If he said the Jews were to blame, naturally we believed him."
Surely Ford could not have imagined that his great granddaughter would marry a Jew, Johnny Uzielli, an acquaintance of mine. Coincidentally, we were together the evening he met his future wife. I was a customer of his father's member firm, Uzielli & Co.
He was a 100% supporters of Adolf Hitler and Nazi Germany.
He was Germany's great friend. His destiny was the presidency, and an American Nazi world.
In Nuremberg, 1946, Julius Streicher, publisher of "Der Sturmer" was found guilty, as publisher, of crimes against humanity, and hung. Why was Henry Ford spared? Was Ford less guilty than Streicher? A case could be made that he was more guilty than Streicher! Ford's European publications included not only his four volume, "The International Jew". Incredible as it may seem, Ford also published and freely distributed, "Protocols of the Wise Men of Zion".
He aspired to the White House. If he had succeeded, Johnny Uzielli, myself, and millions of American Jews might have followed their European families to the killing pits and suffocation chambers.
While Henry Ford was not an SS concentration camp commandant, is his guilt any less than those who were? I recall somebody saying that Henry Ford paved the road to Sobibor.
It is inconceivable to me that, at minimum, Henry Ford was not thrown into a cell in Sing Sing immediately upon Germany's declaration of war.
---
"I don't like to read books. They muss up my mind."
Henry Ford
---
Post-Script — October 28, 2017
Henry and Clara Ford
There are reasons to suppose that this tintype was made on Clara's 22nd birthday, April 11, 1888, also her wedding day. See her face. Look at that face. Note the loose wedding ring; and is that a book next to Henry's leg and hat? If it is a book, maybe it is a Bible, perhaps a gift. If so, a precious one, to be sure. Moreover, see how properly Henry is dressed. When Henry Ford was 24 years old his attire was not normally that which you see in this photographic image. The more I think about it the more convinced I am that this tintype was made on that auspicious day.
In my opinion, she is a beautiful young woman. We see her clearly.
Henry and Clara resided in around a dozen rented houses before settling in their own home. Maybe this tintype — literally — fell through the cracks in one of these frequent moves.
Post-Script — July 10, 2018
When one holds the tintype, (now resting safely in a housing, (fabricated by Grant Romer) maybe, likely, exactly as the original housing), Henry's and Clara's faces are perfectly clear. As I am 86 years old, and have had eye surgery, I am surely not a good judge of such matters. I think it likely that others, with better eyes than mine, will see an image of extremely high quality, and this is merely a tintype. Clara is simply beautiful, in my opinion. And, 24-year-old Henry is movie star handsome. The moment I held the tintype, a few days ago, and saw Clara's face, now quite clear to me, I was more convinced this was their wedding day. Her charming face speaks to me. She is enchanting.
For the time being, the tintype will remain in the bank vault here in Nevada.
Sometime in the foreseeable future I expect to take the whole Collection to Rochester, and leave it, for likely a year or more, in the care of Grant Romer and Michael Hager. I will ask them to organize comparisons of all of the "computer screen portraits" of the Kaplan Collection with the original plates … to determine which, if any of the other plates, should again be scanned.
Do you remember a radio voice who declared, "stay tuned"?
Post-Script — October 28, 2020
Clara Ford
The evidence points to the wedding day in 1888. Imagine that we have a technically supreme quality tintype of Henry and Clara on their wedding day. I like the expression, "stretches credulity". It is hard to believe. I must go to the bank vault soon if only to see this tintype again, to hold it in my hand. I want to again see Clara and Henry. But it is mostly Clara who interests me. See her slim waist. She is a perfectionist. She is beautiful, educated. See her full-bodied skirt She is young and beautiful, and she has found this incredible guy. This is their wedding day.
We see and admire Henry Ford. He deserves the deepest gratitude of the American people for his contributions to this country—indeed—to human history. We think of Henry Ford. But we do not think of Mrs. Ford. I say, forget Henry. It is to this woman, Clara Bryant Ford, we ought to caste our view upon. She will elude history. For sure, nobody will even think of this woman. And yet, she is no less an actor in this great drama than her husband, Henry Ford.